U.S. Firearm Sales Soar Through the Roof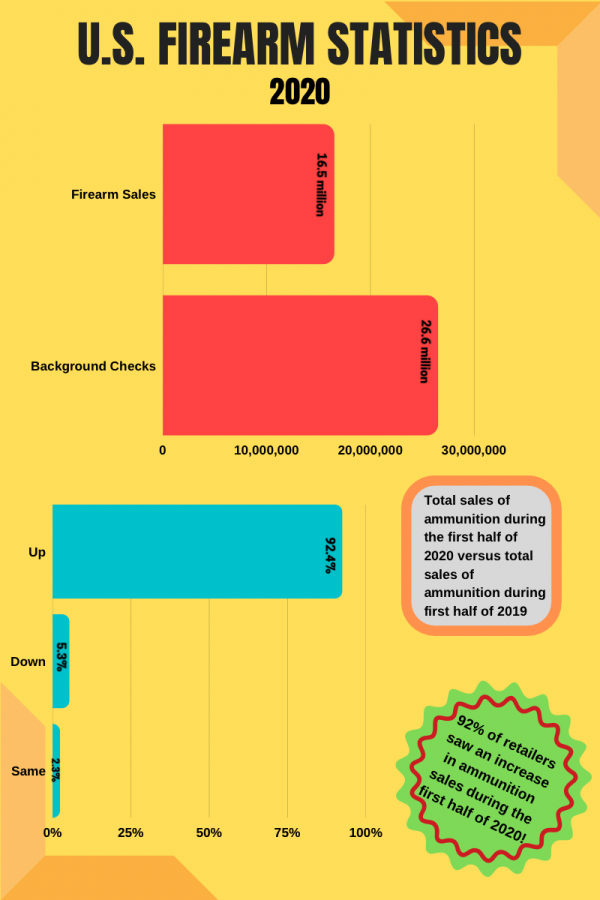 It is not only toilet paper, computers, and other household essentials that have risen in demand this year, but so has the demand for firearms. Gun sales in the United States have risen dramatically, setting a staggering new record of just over 16.5 million sales according to Ashe Schow at "The Daily Wire." In addition, the FBI reports that over 26.6 million background checks have been conducted since the beginning of March, the most ever recorded. The National Shooting Sports Foundation (NSSF) also finds that the sale of ammunition during the first half of 2020 is up 139% over the same period last year.
These increases have largely been attributed to new buyers, many of whom cite the pandemic, economic turmoil, civil unrest, and the presidential election as their primary motives of purchase. The sentiment amongst buyers is generally the same: owning a gun would make them feel safer in these tumultuous times. One buyer told USA Today"that "during these times we're living in, you just never know what might happen." Another customer told the Los Angeles Times, "Politicians and anti-gun people have been telling us for the longest time that we don't need guns. But right now, a lot of people are truly scared, and they can make that decision themselves."
 Not all are fond of this sentiment. Kris Brown, the president of the Brady Campaign to Prevent Gun Violence, told the Los Angeles Times that, "the unintended consequences of these panic-induced purchases … could be a tragic increase of preventable gun deaths for the loved ones these individuals are trying to protect." Amanda Marcotte, a senior politics writer at "Salon," seems to agree with the notion of "panic-induced purchases" when she suggests in an article that Americans are mistaking a zombie movie for real life. 
These contentious sentiments have also been echoed during the election. Donald Trump and Joe Biden have polar opposite positions on gun regulation. Donald Trump has vowed to protect the second amendment and has both eased and supported stricter regulation, while Joe Biden and Kamala Harris have advocated for " … constitutional, common-sense gun safety policies." Although Joe Biden has promised to respect the second amendment, some fear that a Biden-Harris administration will only drive gun sales higher. 
Mark Oliva of the organization NSSF, believes that "gun sales are already elevated, in no small part to the threat to gun rights posed by the Biden/Harris ticket." According to Rommel Dioniso, a firearms industry analyst, the propositions set by their campaign, like a ban on the sale of assault weapons, has already instilled fears in consumers who "would likely flock to gun stores and gun shows to purchase as many of them as possible before such a ban was implemented." With Biden now the president-elect, these predictions have become the reality as the spike in gun sales can in part be attributed to his win.
The pandemic, economic turmoil, civil unrest, and the presidential election are all responsible for the increase in gun sales this year. It is important to discuss this issue especially in terms of the presidency since the country will see Joe Biden sworn in as the 46th president. Through executive action, it is within Joe Biden's grasp to end the gun violence epidemic and make communities safer. Regardless of political view, communities must be alert with news surrounding gun regulation because gun violence can leave deep wounds. 
Donate to The North Current
Your donation will support the student journalists of Glenbard North High School. Your contribution will allow us to pay for training sessions and cover our annual website hosting costs.