Hungry for a volunteer opportunity?
Kids Against Hunger (KAH) is a volunteer-driven non-profit organization that packages and distributes food to communities around the world suffering from starvation or food insecurity. At packing centers, volunteers can assemble ingredients in bags, weigh and seal the bags, box them up, and load them onto pallets that are shipped to those in need. Among the packing centers nationwide, there is a location fairly close to Glenbard North, at Stratford Square Mall. Packing events at this location usually occur once every two weeks, and the dates of the events can be found on their website
KAH open pack events are a great opportunity for students to earn volunteer hours and help impoverished children around the world. The environment at a Kids Against Hunger open pack is welcoming, orderly, and enjoyable. Board member and event coordinator Nancy Theiman describes the environment at a KAH pack as a place where you can "have fun with friends, family, and clubs." Not only is volunteering an enjoyable experience, "it is such a humongous benefit to those in need."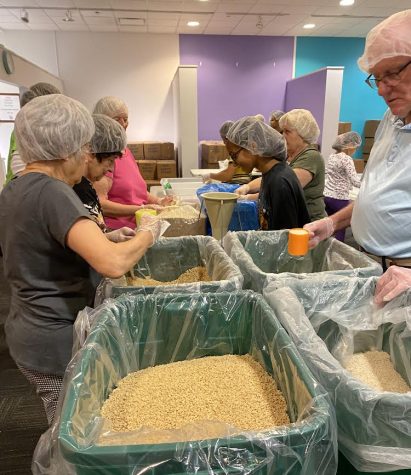 Student volunteer Brett Brunner, '23, mentioned that "the leaders [at the packs] are very nice and inclusive in their words and their actions." He further described his experience volunteering to be fulfilling, and something that anyone can do.  
If you have been meaning to volunteer or if you just want to have an enjoyable experience, sign up and volunteer at the KAH packing center in Stratford Square Mall. Your future self and hungry people around the world will thank you. 
Donate to The North Current
Your donation will support the student journalists of Glenbard North High School. Your contribution will allow us to pay for training sessions and cover our annual website hosting costs.