GN's retiring teachers
Peter Giaquinta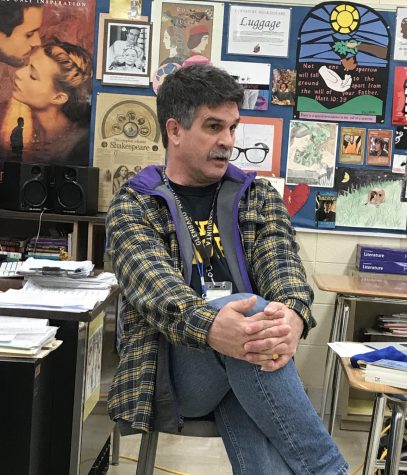 After getting his first teaching job in 1986, Peter Giaquinta is retiring from GN and saying goodbye to his teaching career. He graduated with a Bachelor's in English from Northwestern University and spent a few years teaching at New Trier High School before joining the Peace Corps and teaching English in Nepal. Giaquinta was hired at GN in 1991 and has taught English 1, AP Literature and Composition, Senior Composition, Journalism, and World Literature. He said one thing he wants his students to remember from his teaching is literature and "the ideas and importance of words." After leaving GN, Giaquinta plans on reading lots of books, traveling the world, and helping his wife out around the house and the yard. He also hopes his partner in AP English, Joe McKeown, will invite him over from time to time, as something he will miss from GN is the camaraderie between the staff of the English department.
His favorite works of literature to teach are To Kill a Mockingbird from the freshman curriculum and The Canterbury Tales taught in AP Literature. A piece of advice Giaquinta wants to leave his students with comes from the frontman of the band Parliament-Funkadelic: "Free your mind and your *** will follow." Lastly, when asked what kind of pastry he wants to be, Giaquinta says, "I want to be a cinnamon roll. And not just a crappy, dry cinnamon roll, I want to be a delicious cinnamon roll. I want to be a cinnamon roll that makes a mess. I want to be like a Cinnabon cinnamon roll or maybe even better than a capitalist branch, I want to be a Cinnabon-style cinnamon roll made by some lady behind the counter at some mom-and-pop bakery. Delicious and homemade and supporting local business."
Joseph McKeown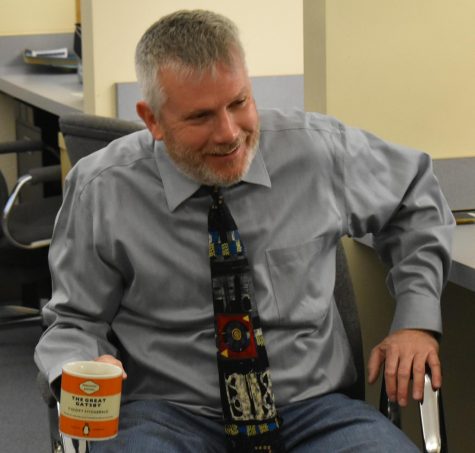 At 63 years of age, English teacher Joseph McKeown has decided to retire after 41 years of teaching.  McKeown graduated from Marquette University, where he studied English literature and philosophy as an undergraduate. For the first two years of his teaching career, McKeown taught at Arizona State University as a teaching assistant while  in graduate school for English literature. McKeown finally got to Glenbard North around Christmas of 1992. Here, he taught a plethora of English classes, including freshmen and sophomore English,  Senior Composition, AP English Language and Composition, American Literature, and British Literature.
Though he cannot pick one absolutely favorite memory, he does have a memory that he still laughs about. A prank email was sent to the English department under the name of another teacher, Ms. Noureldin, who formerly co-sponsored the Amnesty International Club with McKeown. This was because she left her email open on a computer after one of their meetings, allowing someone to use the device and send an email to the English department. The email was about showing kindness to McKeown. It even suggested hugging McKeown or buying him lunch. McKeown recounts the next day having staff members going along with the joke and coming by his room to hug him, "It was funny, but no one bought me lunch."
David Barone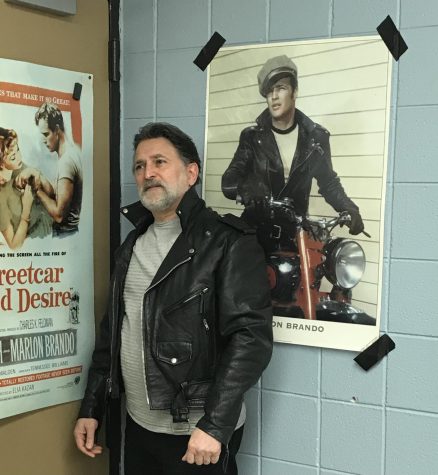 After 26 years of teaching, David Barone has decided that this will be his last year as a teacher. Barone earned his undergraduate degree from Elmhurst University. Of his 26 years in education, 20 were spent at GN teaching classes such as English, film, video production, theatre, and speech. One of his proudest moments while at GN was receiving the Hennessey Award, which is given to the most outstanding teacher of the year. As he counts down his final days at GN, Barone says that he will miss all of his students and hopes that they will remember him "for being a good teacher." Before leaving, Barone gives both students and staff one final piece of advice: "Don't worry about your speech being boring. What really matters is how the person delivers the speech." While many retirees will have ambitious plans after retirement, Barone simply wants to play his banjo, nothing more, nothing less.
Kimberly Saxton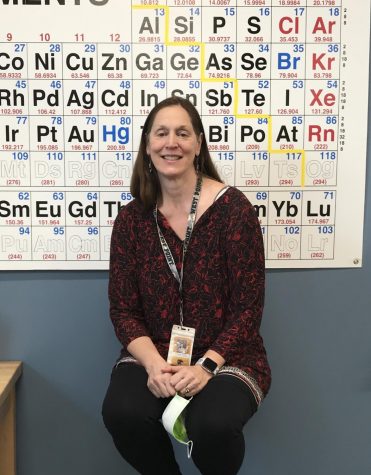 Kimberly Saxton, a GN graduate, is retiring after an amazing 38 years of teaching. She graduated from the University of Illinois at Urbana-Champaign and Northern Illinois University with a Bachelor's and Master's in Chemistry respectively. Saxton taught at West Aurora High
School for four years before teaching at GN for the rest of her career. Although she taught physics for a couple of years, Saxton switched her focus to chemistry. Out of the 118 elements in the periodic table, her favorite element is tungsten, because it's also her youngest son's favorite element. As a cancer survivor, Saxton also relates to the indestructible likeness of tungsten.
Some of Saxton's favorite memories are from the annual tie-dye day hosted by the science department. Her advice for students is to put in the time and hard work for school, because "it's all about the effort." Any effort at all is greatly appreciated, especially in a pandemic year where it's hard for teachers to close the virtual gap. After retirement, Saxton plans to move westward towards Colorado, Alaska, or "somewhere near the mountains." And from these mountains, she will miss her co-workers the most and she will also miss her students. Saxton wants to be remembered for being the passionate teacher because "the most memorable students are the ones who are like me, or get me: they're passionate about the sciences and willing to explore and learn about the geeky stuff!"
Donate to The North Current
Your donation will support the student journalists of Glenbard North High School. Your contribution will allow us to pay for training sessions and cover our annual website hosting costs.